"What would you do if you didn't feel bad about yourself?"***
Let it sink in.
"What would you do if you didn't feel bad about yourself?"
…
What do you feel when you ask yourself this question? 
It might take some time to get clear. Or maybe not. Maybe you instantly see and know something.
When I first started to ask myself, I felt incredibly free and happy and almost giddy. Like suddenly this big heavy blanket that had been covering me for so, so long was gone.
Here's the thing. In this western culture, feeling bad about oneself is an epidemic. It's in our ancestral lines. It's in the collective soup. Most of us push it down to where we don't have to hear the voice or feel the pain. But when you are in this line of work, you become very aware of the taste of this soup.
It's here. So how will we be with it?
In a very simple way,
you have two competing voices – the voice of the Self – your essential nature, an inner knowing that often speaks in a quieter tone – and your personality or persona or ego. The ego isn't bad or wrong. But it is a young voice that is centered in a kind of self-protection. It is immature. It favors either self-inflation or self-deflation. The true voice is neither. It is simply Self.
Every ego knows both inflation and deflation, but one is usually predominant. We have all seen people who tend toward self-inflation. And we've all seen people who tend toward self-deflation. Notice which you tend toward.
I tend toward self-deflation. Hence, when I ask myself this question and feel what it would feel like to simply be in the world without any deflation, "without feeling bad about myself", this beautiful bright world of possibility opens up. That bright world is what is always here when we aren't fixated in egoic ways. This is the bright world of Essence which is alive and often hangs out in a kind of soft joy when asked this question. 
When I see the collective pain body, I see a heavy blanket of self-judgment and self-hatred. In our Western culture, we carry so much baggage around suffering and a sense of unworthiness. It's handed down, generation to generation. We grow up in households steeped in it, even if it is never talked about and not even in family members conscious awareness.When we begin to wake up to this, we begin to see how heavy the path of clearing this kind of toxicity can feel. We begin to see that it's not who we are, yet the blanket finds its way back over us with such seeming ease.
So, what does it mean to wake up into the human experience?
When we come down into the body and are doing work to wake up as souls in the human experience, we come into direct relationship with this old human lineage of the traumatic personal sense of feeling bad about oneself.
We begin to experience being conscious in a sea of feelings about the self that do not feel good. The more we wake up, the more we know that these feelings originally were not ours. They were those of our parents and other family members, going back down the line of ancestors.
Becoming human is to become awake, as Essence, in our beautiful body, in our lives, in our relationships, just as we are. Becoming human is to bring the ego closer to hold it in love so it begins to trust that being here, on earth, is something to dive into rather than fear and flee.
And this is where we must find the courage to decide for ourselves how badly we want to be human. That's right. How much do we want to have the full human experience?
When I feel bad about myself, I am reluctant to dive into life. When I feel bad about myself, I hang back, often isolate, and fear being seen or heard or known. When I feel bad about myself, I don't say what I want to say, I don't express what I'm longing to express. When I feel bad about myself, I don't let others know that I am longing to be loved, to be touched, to be held…and I don't let others know that I am feeling bad about myself.
To be human is to be in the middle of life, not hanging back. To be human is to honor the very important need to be loved and connected, to touch and be touched with kindness and tenderness, and respect. Often, we feel bad about our needs, the very ones that make us human. But, there is nothing wrong with you for wanting to be loved. Nothing wrong with wanting to be loved so deeply, without conditions, without fear of abandonment. Nothing wrong with wanting to be touched with kindness, tenderness, respect.
There is nothing wrong with you for being human.
When we honor our deepest hunger for connection, love, touch, and caring, we are more likely to realize that this voice that needs to feel bad is simply longing to be loved. Deeply. Completely. Tenderly. Without fear of being abandoned or rejected.
This is what it can be to be human. This is what we are waking up to. Being love in a human body. Able to ask for love. Able to give love. Able to receive love.
Hold yourself in love. Fully and deeply. Every part of yourself. No exceptions. Especially with the part of you that feels bad. Without turning away. And if you do turn away while you learn how to do this, turning back again to yourself. With love. Always with love. It might feel hard at first. Parts of you might not trust you. They are protecting themselves from more pain. Reassure them. Stay with them no matter what. Be the abiding love you've longed for. Decide to stay with yourself and then stay. And, watch how your own love heals the sense of separation within you. This is the way of love. It's the way I work as a coach. But more like a guide. A guide that guides you back to yourself. With love. In love. Through love. Always love.
"What would you do if you didn't feel bad about yourself?"
***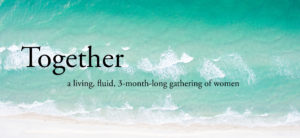 Together begins next week. It's an opportunity to dive into life. We will meet every other week, face-to-face by video to be with each other. To be real. To be human, together, in all our humanity. This is an opportunity to be with this question in a deeper way, to show up in a group of women with the possibility to say and do and express what you would if you didn't feel bad about yourself – as well as to be together when these feelings are present.
How else will we find our way to being human if we cannot do so Together???
You can read more and register here. This link will take you to JulieDaley.com, my new website.
*** I became very aware of the power of this question after watching Matt Kahn's video. You might appreciate what he shares.