Time spent with other women is such magical time. As I dive deeper into my experience of being female and explore my own feminine depths, I find this time with women so enriching, so fertile and so reflective of my own true nature, and the nature of the feminine.
Creation
I looked forward to my time today with a group we have named Creative Playground. My wonderful friend, and fellow coach, Jennifer Lee brought us all together a few months ago, sensing that magic might occur with us all in one room. Magic did, and continues to, happen.
The thread that runs through our group is one of delight in making art and exploring our creativity. Today we spent the afternoon at Laura's house, where she introduced us to mandalas. While I use mandala creation in the courses I teach, Laura brought an entirely new way of looking at them by introducing us to them through a wonderful visualization. She taught us that the center of the mandala is the Bindu, the centerpoint of all of creation. In the visualization, we turned inward to experience our own center and all that it holds.
As I visualized, I sensed a pulsing energy, as if all of my life force radiated out from one center point deep in my hara, near the sacrum…the very center of my body. I could see an image emerge, one of a powerful cell that holds all of creation. As I explore the Sacred Feminine and my own experience of being female, I find myself continually brought back to the experience of bringing life forth and giving birth. Even though my own daughters are grown, I sense my connection to the Earth through something mysterious, that essence that is inherent in all women, that allows us to nurture life and bring it to term.
We then dove into creating our first mandala, and the result is the mandala above, titled 'Creation'. I started with the outer layers, which felt like the lining of the womb as I drew them. Then, I created the center and followed it with the concentric circles radiating outward. Bringing more awareness to my own center core allowed me to put what I experienced out onto the paper. It was another way to sense into who and what I am.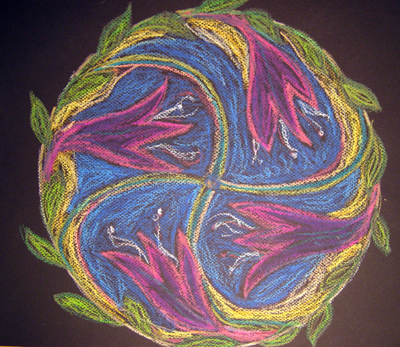 The Earth held by Flowering Hands.
My next mandala was much more free form. I began with the leaves at the edge, and then moved in to the flowers. After we completed our work, I traveled to babysit my grandson Lucas for a bit, and Lucas decided he wanted this one for his art collection in his room. Standing back from it and looking at it one more time, I realized it looks like the Earth being held by loving, living flowering hands. It is an image that makes me smile.

Mandalas are an ancient form from the Hindu religion. The word mandala is Sanskrit and loosely translated means "circle". But it is much more than simply the circle shape. It symbolizes wholeness and the infinite nature of life. The Bindu is the 'infinite point' within which everything is contained.
Gather a group of women together and enter into your own mandala mystery. Focus on your body, and on your interior experience. Allow your experience to guide your creation. Once created, you can then take a fresh look at your mandala and see within it an entirely new view into who and what you are. It is a representation of all that you are, and all that is.