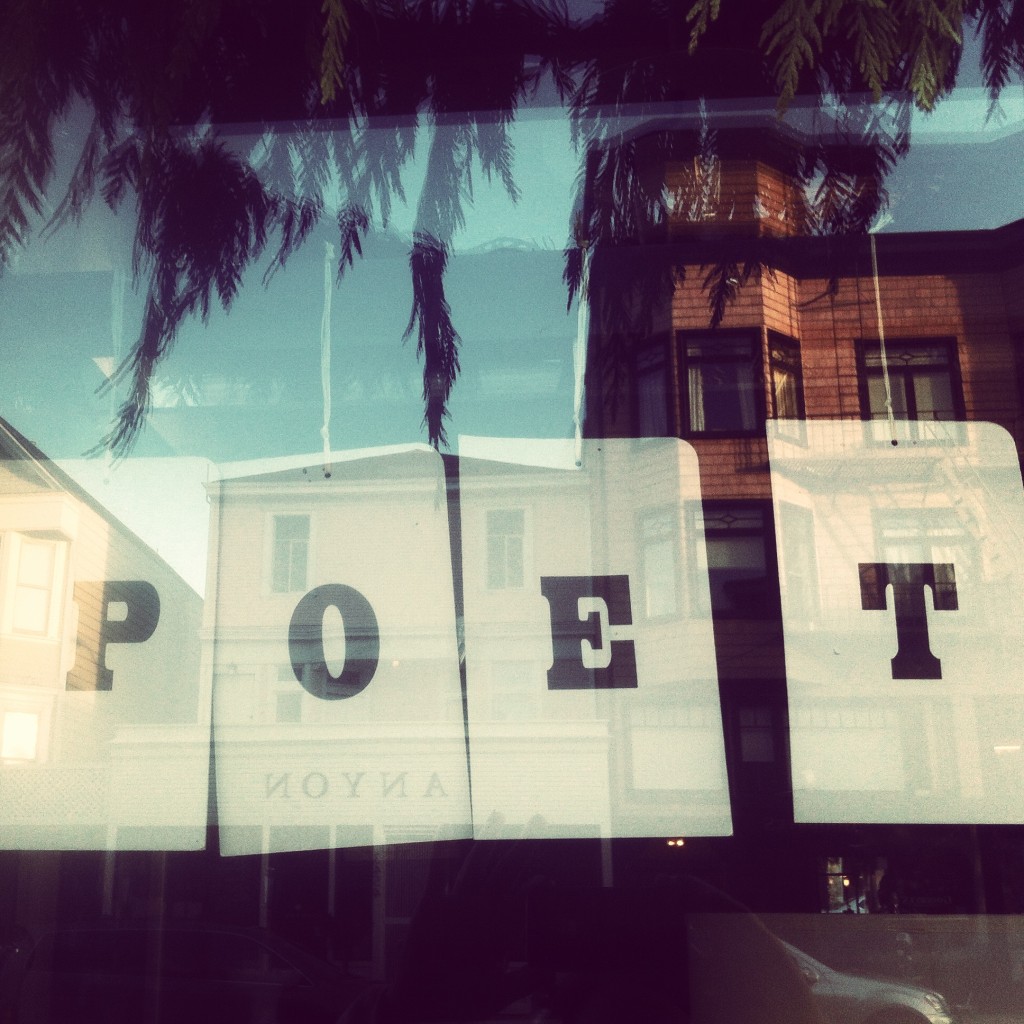 "Don't use the phone. People are never ready to answer it. Use poetry."
~  Jack Kerouac
For some time, I couldn't call myself a writer. Then I did.
Same is true for poet. Now I do.
I've come to see something about writing. And poetry. When I first began to write after graduating from Stanford, my writing was – as you might guess – academic. But, I was 45 when I graduated, and had a lot of life in the rear view mirror. I wasn't new to life. Academic writing served me there, but as I began to write about my life, my words felt clenched, tight. I slowly began to unwind my voice, to free it, to soften it. I began the journey of writing, and it has been a journey.
The journey of writing is so many things. For me, it's been part of this long journey to discover who I really am, to discover what is inside as well as outside, and ultimately to discover there is no distinction.
The journey has taken me to many places, places that I'd hang out at for a while. Hanging out gave me the chance to settle into a new writing style, really a new writing freedom – plateaus on the long way down and in.
Lately, I've seen how I, and many, many women, learned to translate our native, mother tongue into a language that is more acceptable in this masculine-centric culture. My writing journey has been to come home to this mother tongue, my mother tongue – the language my own soul speaks.
Perhaps it is poetry. Perhaps. I say that because I don't even really know what poetry is. I don't know the rules. And, I don't need to know either. I know it by feel. There is spaciousness in poetry, and there is room for you to read my words and have your own experience – whatever that might be.
So, yes, I am a poet. A poet of my own language. As you are a poet of your own language. Isn't that truly the only way we can really tell and write the truth? In our own language?
::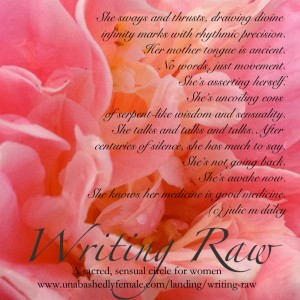 How do you come to know this language when you've been taught to speak 'the' language your whole life? You listen. You listen within. You go within, open your inner ears, open your inner eyes, touch with your inner fingertips, taste with those taste buds that line your heart's walls and tumble down the sides of your round and supple belly.
You wade into the deep waters inside your inner temple, waters that hold the elements
of creation, waters that are creation.
You write, raw, the language of your own Soul. Every Soul is a poet. Every Soul. It is up
to you to know what poetry means for you.
If you'd like to take this journey with me, join me for the next round of Writing Raw.
We begin the week of January 12th and our circle lasts for six weeks. The early-bird price of $295 ends Dec 31st.
It is not simply for writers. It is for any woman who wants to know the deep feminine within, who wants to explore her own body and the body erotic, who wants to hear her own voice spoken aloud in a circle of women, without judgment, without critique.