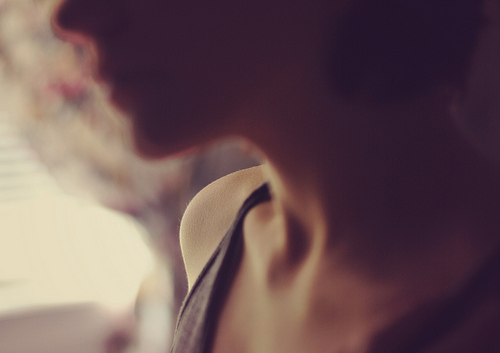 ::
On my unexpected walk yesterday morning (car battery died and I walked home from the mechanic), I was suddenly moved by an insight. Unexpected circumstances can do that…bring insights. These times can be our most creative moments, because we're taken out of our normal routine, which can wake us up to the newness we are always really living in.
The insight? That it's not so much what we speak as women, but that we speak…that we liberate the female soul's song.
The feminine was silenced. Our mothers were silenced, as were their mothers, and their mothers, and so on. And, we are continually encouraged to (many times through shame, shunning, threat, and humiliation) stay silent.
I know I silence myself. I learned to do this at a very young age. I watched what was going on, listened to what was expected of me, and learned to manipulate my behavior accordingly. I know others who did the opposite – pushed back with every fiber against being silenced. Pushing back, though, is still a kind of silencing, because being completely free means you simply speak what is true and many times when we push back, we are more caught up in the conflict than being free to simply express what is within. Not always, but many times.
Unlearning silencing isn't such an easy task. Patterns of silencing are insidious. The patterns are within our psyches. They are in the culture. Everyday on the internet, you can read something powerful posted by a woman who is speaking her mind. And, you don't have to look far to see the comments that immediately surface attempting to silence her through intimidation and threats of violence and harm.
I believed that silence would keep me safe. When I learned to do it, it did. But silence keeps none of us safe, and in these times we are living, silence keeps us from creating something new in our world that is life-affirming and fueled by the deepest love that is life expressing itself anew in each moment.
This insight was really beautiful…and simple.
I can see that it really doesn't matter the form we say things in, but that what we say must be true in our hearts, to our souls.
We don't have to come up with something amazingly wise and transformational. What I see is that the very act of speaking will heal. Speaking the truth in our everyday lives will heal. It opens the channel, and when the channel is open creativity begins to pour forth…a creativity that is rooted in the sacred creativity that women embody. It is this sacred creativity within our beings that is birthing the new consciousness. Speaking opens the channel. It reconnects our awareness with what is true deep within. Speaking can be a metaphor here, yet I also can see that vocalizing, the act of making sound through the body is incredibly powerful.
Speaking begins to end the silencing that has happened to the feminine, and to women. The act of speaking opens channels in the body and soul.
Hearing one's own voice saying words that have been swallowed too many times to count reawakens a knowing of self that is necessary for healing.
Speaking truth in everyday life is an extremely powerful act…powerful and healing.
In working with women, and in my own experience, I've come to see that we can get caught up in the belief that we have to come up with wise words, and even more have to put them into some 'form' like a blog, or a book, or a speaking engagement, or you name it. But the insight showed that it is much more simple than what we think.
Imagine millions of women around the world, women who have the freedom to do so, speaking the truth to ourselves, to our families, our lovers, our co-workers, our bosses. Speaking for ourselves and on behalf of those who can't, who aren't free to do so.
Hearing our own voice with our own ears. It's a reclamation of the power that lies within to give voice to the soul.
I don't know the esoteric details of what happens when a woman speaks truth aloud, but I can see something shifts. When a woman listens to what is happening and feels for resonance and responds with truth, responds in a way that honors life, not only within herself but within all of life, silence is broken, healing happens, and something new is born.
We can support and encourage each other to do this.
What if each of us actively reached out to three other women we know and asked them to speak aloud the words that have been swallowed back down over and over and over?
What if we reached out and invited them to tell us their truth?
What if we saw this opportunity to hear, really hear, another woman's truth as a sacred act and we listened accordingly?
Will you do this?
Will you offer this gift of inviting out woman's song?
A good place to begin is with yourself, to hear your own words with your own ears, and to feel them rise up out of your body into the light of day. Really listen for the words to be spoken. Listen then speak. Keep speaking because sometimes those words take a while to reach. Feel the words rise and move and flow as they are offered up.
This IS a sacred act.
John O'Donohue wrote, "All holiness is about learning to hear the voice of your own soul. 
Doing so calls back a power that was buried when we went silent.
Doing so reconnects you with you.
Doing so liberates woman's song.
::
Image is white ribbons on Flickr under Creative Commons 2.0