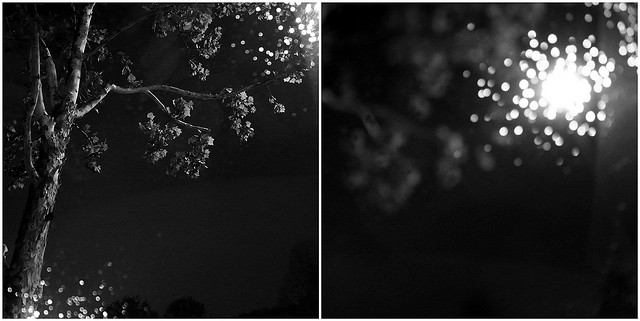 So the darkness shall be the light, and the stillness the dancing. — T. S. Eliot
Just as the moon becomes fully eclipsed, I enter the center of the labyrinth. It's about 5:00 am. The labyrinth is lit up a bit by the lights surrounding Grace Cathedral, offering a bit of light to this very dark moment.
As I stand in the center of the labyrinth, I gaze at the moon for quite a while.
I stand there, simply feeling.
Something is being remembered.
It feels as if my soul is reaching back into time, and back into other layers of existence or understanding or something such as this. It's a feeling, and along with it are images of dark passageways. Not literal passageways, but passageways that seem to be showing straights of time and existence.
I know I am remembering something, but it's not a remembering of something in this life or something my mind might understand. Rather, it's a remembering of the Soul. I can feel the 'meeting' between knowing and my Soul. I feel it down deep in the darkness, down deep in the cells, down deep somewhere that I cannot see, but can see by feeling.
And so, my opening to the darkness as beauty, darkness as wisdom, darkness as rich soil of the divine comes in waves of knowing and realizations of not-knowing, too. My mind cannot figure out what this all means, and believe me it is trying to figure it out. It wants to sneak into these divine moments of darkness. It is trying, yet the pull of this deep feeling space is so sensual and so deeply loving.
There is a beautiful cauldron of creation from which all is born. And for women, this universe of becoming also resides in your female body, deep in the waters of the sacred center that is held so artfully and lovingly by the pelvic bowl
Our relationship to the dark is how we relate to our own creativity. Creativity is born out of this cauldron of creation. We can't see what will be born from the dark. We must come to trust in the dark, in creation itself.
Perhaps what we've been taught to believe about the dark isn't true at all, anymore than what we've been taught about light. It is out of the darkest darkness that the most brilliant light is born. And brilliant light eventually finds its way back to the dark.
It's easy to label things light and dark, good and bad, right and wrong because in a world where we are taught that everything is either/or, we come to believe this way of thinking is the only way. But standing in the labyrinth, feeling the moon and earth and sun deeply affect the deep regions of my psyche, I come to know that nothing is as it seems to the mind. And, it is here in this rich stew of remembering that I settle down into my bones, into the center of a matrix that holds me.
If we truly want to live in harmony with life, and with the earth and moon and sun, we must come to know this aspect of ourselves – the brilliant darkness from which light is born.
Notice how many times you hear dark being used as something bad, while light is seen as the good. Notice how you have learned to shy away from the dark while persistently trying to 'stay in the light'. Just notice. And, notice what you begin to remember when you allow the darkness of your internal world to welcome you home. Notice how it feels.
Stand in the center welcoming this remembrance, however it shows itself. You don't need an eclipse or a labyrinth to do so. Simply stand in your own center.
In the stillness of noticing, see how what-you-truly-are is already dancing in divine harmony.
::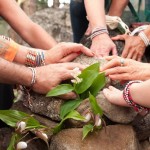 I'll be teaching again next June (14th – 20th) at Feathered Pipe Ranch in Helena Montana.
Feathered Pipe is a beautiful place, with wonderful people, delicious food, and land that welcomes you even before you arrive. I'll be teaching with Michael Lennox, whom I co-taught with last year. Over our week at Feathered Pipe, we'll explore this beautiful darkness within from which all is born. I'd love to have you join us.
If you register by October 31st, tomorrow, you can take advantage of two discounts. If you pay in full, both lodging and retreat, you receive 10% off the entire cost. If you register with the $300 required deposit, you'll pay the 2013 price rather than the 2014 price. You cannot combine the two. Correction: You CAN combine these two discounts.
::
I want to share these wonderful interviews with you that I did with three good friends. I love it when good interviewers get you to share some nuggets you've never shared before.
Rachael Maddox is the 'ringleader of the Traveling Soul Circus'. Take a look at what Rachael does. She's truly inspiring. In our conversation, Rachael and I talk about '

Bringing Ourselves to the World Situation: Natural, Organic, Real :: Age & Meaning'



Evelyn Kalinosky is a catalyst and mentor for business women in midlife transition. I loved getting to know Evelyn and the great work she does with women.This interview was for Evelyn's Conversations That Matter series. Evelyn asked me to share some of the moments of my life that have been big catalysts for my evolution. I've shared some personal stuff here.

Nikki Groom has been touted as THE copywriter to watch. She writes exclusively for  women entrepreneurs and believes that words should speak to the heart–not just to the head. Our conversation was fun and is deeply engaging…as is Nikki. She's fun and has a wonderful way with words.