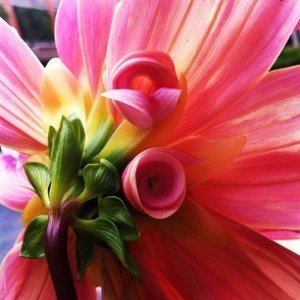 "Life is your art. An open, aware heart is your camera. A oneness with your world is your film." ~ Ansel Adams
The other day I had to pick up a new headset for my iPhone. I was down in Palo Alto, so I headed over to the Stanford Shopping Center. This is one of the most beautiful outdoor malls ever created…mainly for the flowers planted all around the center.
I hadn't realized just how out-of-sorts I was feeling until I saw these Dahlias. As I stopped to really look at them, I realized just how much joy seeing the beauty in flowers brings me. They bring me home. I begin to breathe more deeply. I being to smile a soft smile. I feel joy, that soft easy joy that is such a field of contentment. This joy is the joy of an open aware heart that meets life without expectations.
Returning Home
In Women Who Run with the Wolves, Clarissa Pinkola Estes writes about the periodic need of women to go home, to return to the soul. Sometimes, we need to really get away to some place earthy and enchanted to remember the depth of what we are, and sometimes we can find a mini-retreat of sorts to reconnect to the soul.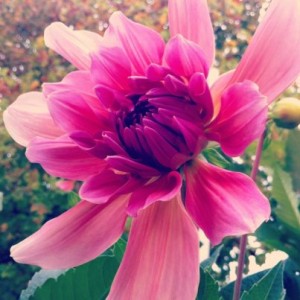 As I continued to meander through the mall looking at flowers, I found this one. From the front, it is gorgeous in its openness. It's not at all symmetrical. It has its own unique arrangement of petals. I loved that about it. Then, (and I don't know what possesssed me to do this!) I looked behind it, at the back of it, and lo and behold! – there were these beautiful little curls that you see in the top image. I think she invited me in…
Seeing the coiled flares of delight she's got going on behind her, sort of like under her skirts, caused me to wonder (I love the word wonder) what flares and curls and pink petals I've got stashed away, just waiting for a moment when the light shines upon them calling to them to come out of hiding. I know it's something to do with bawdiness and laughter, delight and belly-shaking glee.
I know I'm shaking off the voices that have caused me to continue to believe that logic and reason reign supreme over delight and wonder, that having things figure out is much more important than settling down into the utter delight of not knowing a damn thing and being open to the delight of discovery, that clarity of argument will always win out over the powerful peace that comes when something is just what it is without the need to get anyone to understand. Ha…how totally devoid of delight, glee, and eros these voices were that I came to internalize!
How about you?
What coiled tendrils and flares are you keeping to yourself? What would others see if you were to give us access to those parts of you you've yet to unfurl, that you long to unfurl? Notice the uniqueness in this beauty. Where, and in what, does your uniqueness just wait to be invited out?
Where is that bawdiness in you, the place where delight, desire, and a good belly laugh are all that's needed?
What mini-retreat might you have at your fingertips just waiting to take you home, back into the arms and lap of the goddess who delights in those little flares of soul?