Spring is here in the Bay Area in all its beauty. The other day, a friend and I were sitting outside on her balcony that overlooks her garden. We were enjoying one of the first warm days of the season. With the sun's warmth heating up the landscape, the fragrance of spring was in the air. There was something else in the air as well…Innocence. As we looked out at the tender shoots of green making their first appearance and the myriad of blossoms peeking out into the light, we were swimming in a sea of Innocence.
On Sunday, I noticed Innocence again as I meandered through the Japanese Tea Garden in San Francisco's Golden Gate Park. Cherry blossoms,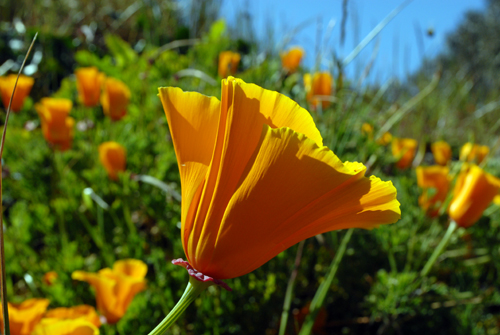 California Poppies and many others all were making their debut in Spring, 2008's show. When I feel innocence in the air, and in myself, I feel a fresh awareness in the moment.
No matter how old we get, we still have this fresh awareness available at any moment. It's this fresh awareness that allows us to experience the vibrancy of life, quivering with aliveness. And, when we tap into this vibrancy of life, we can feel our own vibrancy, our own innocence, which can also be felt as wonder, discovery and a simple joy inherent in life itself.
When I realize this natural sense of wonder within, I awaken to the fluidity of the Now. Wonder invites me to participate with life, allowing me to remember that I am no different than that cherry blossom peeking out for the first time. I, too, am life blossoming into wholeness.
What do innocence and wonder have to do with creativity? Everything. Engaging with the flow of life is creativity, the life that you are and the life that you are swimming in in each moment. If you are not seeing with fresh eyes, you miss all that is right here now. You can't tap into everything that is available for your new creation, your new vision, if you have your mind made up and your expectations set. When you feel a vision wanting to be born from within, allow it to move as it chooses. You are the vehicle of this creation. Feed it. Nurture it. Love it as it finds its way. And, feed, nurture and love yourself as you carry it into being.
Every day you are creating…but not by yourself. You are creating with the world around you. Innocence and wonder bring you back to the freshness of what is here in each moment, a freshness that knocks at your door, ready to teach you what it has to offer.