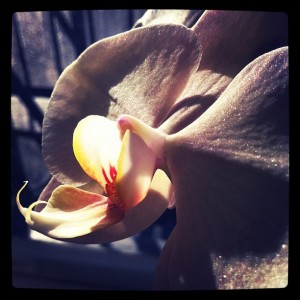 I take pictures of flowers. I can't help myself. Something in me is completely drawn to a flower in the midst of opening to life, it's soft petals so vulnerable in a what can be a harsh world.
I have this gorgeous orchid in my home. It was a gift and is now in bloom again. As I walked past it the other day, the sun was shining through its translucent petals. The luminosity drew me to it like a moth to flame. In much the same way, when I get too close to such beauty, something in me dies to this beauty.
I posted another shot of this luminous flower online and received a number of comments.
Absolutely gorgeous.

Stunning.

Oh my goodness. Made my heart jump.

Very vaginal in the best way ever.
It was clear that this orchid looks like a woman's sexual anatomy – vagina, vulva, clitoris, etc.
It seems as though we respond to this flower as something breathtakingly beautiful.
And this begs the question,
Why don't we feel this way about our own beautiful, sexual female bodies?
::
This post is part one of a three-part series. I'd love to know how you feel…