Happy Monday!
It's sunny and warm (70+) in San Francisco, today! Strange weather for a San Francisco July day.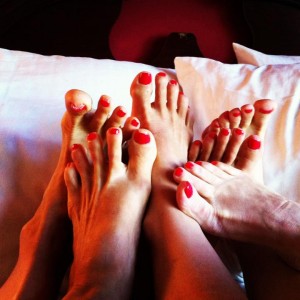 It's a busy day here. I'd love to share a few things that I feel may be fun and of value to you. When I looked to see something they have in common, one thing is the word flesh… In the flesh, flesh to flesh, flesh upon flesh.
Just last weekend, I got to spend some sweet time in the flesh with my two sisters, and lots and lots of cousins. We were in the Chicago area for a family wedding. My sisters and I decided to get a mani-pedi together, and decided on the same color polish. It was wonderful to be together. We don't spend enough time together, so taking time to do some simply things with them made me very happy!
Why flesh? Because the wisdom of the flesh is where we discover the sacredness of this human journey. The wisdom of the bones, the body, the breath is where we discover the roots of our humanity.
::
The Feminine Face of Leadership
Join me tonight for a free call on this very important topic. Wendy Rue, of Studio 1010, and I will spend some time conversing on what it means to be a feminine leader during these times of great change, and well as sharing details about our upcoming workshop in Anacortes, Washington.
I met Wendy in the flesh earlier in the year as we began to plan our weekend workshop. She is a smart and savvy woman who is bringing some amazing programming to her studio in Anacortes.
I'm so looking forward to this weekend, because I love to teach in the flesh and just haven't done enough of it lately. I'd LOVE to have you join us. We'll dive deep into our bodies in service to you discovering the truth of your being and what leadership and creativity means for your soul.
And if you miss the call, I'll post the recording to the event page on Tuesday, July 31st.
::
Are you looking to drop into the sweet flesh of your body?
If so, I'm guest posting over at Lisa Rough's Sacred Circle. Writing this post caused an 'all-body' smile in me!
"As I ponder, a parade of images moves through my mind's eye; images of the body, movement, glistening sweat, the sweetness of deep darkness, the sensual abandon of flesh upon flesh, and the earthy smell of forest groves. Being alive in the body is how I return to me, where me is the deep-hearted and deep-bellied consciousness that points to the depth of the feminine soul."
::
We are being called to show up in person, flesh to flesh, to see each other in our imperfect humanity. 
When I met Lynn Baldwin-Rhoades of the uber-popular women's site, Power Chicks International, I immediately felt comfortable in her warm presence. Her smile lights up the room and her warm heart invite you in. No wonder she is so good at what she does…in her words, "Community builder, champion of women and lover of dreaming – and achieving – crazy-big stuff."
So it was a delight to be interviewed by Lynn for her Wholehearted Women series. I share a lot about myself that I haven't shared yet online.
"One of the ways we are re-discovering the true power of the feminine is by living the truth of ourselves – this is what being vulnerable is all about – not hiding ourselves. Yet, I still hide. There are places that feel just so painful to reveal, so in this process it is also important to know that, to acknowledge it and to, with compassion, ask myself to go further into it.
I certainly don't do any of this right. I make a ton of mistakes. Yet, and its taken me soooo long to get this, that this is when people actually find me the most attractive…in my deepest humanity."
I hope you enjoy it.
::
I'd love to know what you're wanting more of…what would you find valuable as you awaken to being Unabashedly Female? Feel free to share in the comments.