I've three fun things to share with you. But first, this:
~~~
I am in the middle of the launch for my new course, Becoming a Force of Nature. I'm excited about teaching it here online after teaching this material for so many years. And, I'm nervous. Why? Because I'm finally mixing this Stanford curriculum with my very personal experience and wisdom about the sacred feminine. I've wanted to share this, but I've been filled with a voice that asks me, "Who are you to teach this?"
The reason I'm finally offering this course is because I came to see that I have experienced what I've experienced, and that is what I teach from…not only in the Stanford work but also the accompanying material around womanhood, the feminine, and what is needed in our world today. And this is the heart of the course…coming to know Self by way of your own experience. It is time to come home to ourselves, to what WE know, not what another tells us is so. This has been the most difficult thing for me to do – to not look outside of myself for answer. I still do it – and my coach lovingly guides me back.
This morning a friend on Facebook shared a link to my course with words that showed how much she believes in me. She wrote, 'She's the real deal.' I read these and I wept. She caught me off guard. It was out of the blue, not requested by me, but solely an action from her heart. And in a flash the voice that usually shouts fraud was silent.
Somewhere inside each of us is a small voice that so worries that she's a fraud.
I remember being in my third week at Stanford, sitting in a room with a group of non-traditional students. Our advisor asked us to close our eyes and then to raise our hand if we answered the following question with yes: "Do you feel like a fraud?"  I raised my hand without a second thought. I mean, of course I was. I didn't belong there. She then asked us to keep our hands where they were and open our eyes. I did, and lo and behold every single hand was raised. We all looked at each other and burst out laughing. Every single one of us felt like a fraud.
No one is immune from this.
So when my friend shared her confidence in me and my work this morning, her gesture soothed that small voice and filled my reservoir just a little bit more. I don't know if it ever gets filled. I think that's why it's so important for us to champion each other, to delight in each other's successes, to know that each of us has our own unique gift to share and that when each one is shared, the whole tapestry can finally be woven together.
When we stand in our own ordinariness, in the truth of our own experience, just as we are, as vulnerable as we can muster, the fraud voice has no place to stand.
A force of nature is unstoppable. Yes, we are forces of nature; yet, when we don't trust our own knowing and wisdom, we stop ourselves.
And, when we don't have a web of sisterhood to hold us, we can feel amazingly alone out there in the world doing the work we are here to do.
How about we find one woman each day and somehow, in some way, champion her? Tell her the truth about what we see in her. It has to be the truth, 'cause we know it when it's not and it only then feeds the voice that believes it's a fraud.
Thank you, Aime Miyamoto, for championing me. And, thank you to these two friends below, for including me in your latest creations.
~~~
My friend, Kristin Noelle, asked me to share something for her 'My Body is my Guru' series. And, of course I said, Yes. You know how I am about the body. And when it came time to write it, my body wanted to have a big say in it. Of course.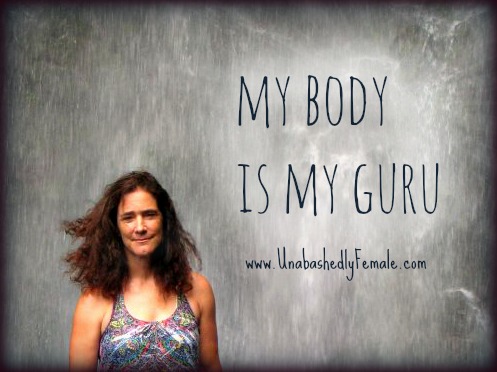 I was writing about the body being the teacher. It had a few things to say. And that's what the post is about…my body beginning to converse with me in a way it never has before.
From the post:
My body hungers for beauty and connection. It thirsts for the sun and wind. It feels exquisitely alive when it is touched, and is touching, with beautiful attention.
In listening to my body, I begin to understand in a deep way what it means to be a human being. The body is the human being. It is the creature. It's the wild and furry feral cat that slides along her back just to feel the sunshine on her belly, or the fish that used to swim underwater for huge periods at a time, or even the snake on the dance floor that undulates along, moving in rhythmic motion.
You can read the entire post here.
And while you're there, take a look at Kristin's work on Trust. It's beautiful. She is a trust coach, and writes, speaks, teaches, makes art, and listens deeply, all to help trust grow.
~~~
My friend and colleague, Dian Reid, has released her new eBook, Summer of Authenticity: Fully Alive!  Over the summer, I took part in her series, and now she's put all of the stories together in one place for you to download for free. There are many great stories here, and many of my online friends are included.
From my story: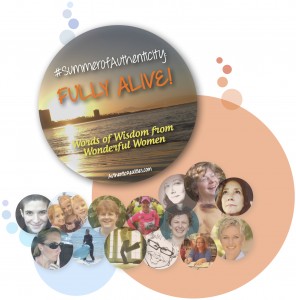 These words are moving in cycles, weaving things in and out. This post isn't linear. And neither am I, nor are you. We are human. We aren't reasonable. Nor is life. We are sensual, sensing, feeling beings. Long before humans were reasoning, analytic thinking creatures, we responded to life, to rhythms, to change instinctively, intuitively and skillfully, weaving together everything that happens in our experience. We still have this skill.
To be authentic human beings, means this, too: to come back to our animal selves, to sniff the scent of what's here, to notice when we feel off, to feel our longing, and to notice when we are in tune with, or out of tune with, nature. 
I love Dian and her work. I was able to meet her in person this summer when she came to San Francisco for a weekend getaway with her partner. The three of us shared a bottle of wine together at the ferry building, overlooking the bay. We talked and laughed. It was one of those times when everything just flows with ease.
Dian coaches women around owning their authentic voice and using it to create transformational shifts in both life and business. She is bold, real, and very generous.
~~~
Tomorrow, October 10th, I'll be hosting an information call for my new course, Becoming a Force of Nature. I'll be sharing a bit about why not only finding our creativity but also bringing it into the world is so important at this time on the planet.
Thursday, October 10th, Noon PDT
Dial-in Number: (712) 775-7100
Access Code: 1005863#
I'd love to have you join me. I think we'll have fun. And if you can't, the call recording will be posted on the course page here.
A quick reminder: the early-bird price of $599 is good until Sunday, October 13th at 9:00 pm pdt. The price then increases to $799. There is a installment plan option if you'd like as well.
Sign-ups are going well. We have a beautiful group of women gathering together for this 24-week journey. I know it is going to be rich and full and lovely.