We are creating our world with our actions. Our actions affect the whole. And, our words (or other actions) can be powerful catalysts if we source them from within and will write or speak them into the world.
When some people have more power than others because their voice is heard by more people and they are in positions of authority, those people have more power to shape the story of this world and how it unfolds. And when those who have little to no power have no voice, little to no authority, the powerful keep their stranglehold on the cultural narrative.
So what do we do? How do we change this?
There are many of us who have more power than we think. We've learned in many ways that we are powerless, but we are not. We might not be in traditional positions of power, but many of us have access to the world wide web, which is part of creating this new culture. And we all have the power to create community and to be part of many communities.
If you are reading my words, you have this access. You, too, have this power to create our culture. Your voice matters. Your creations matter.
So what keeps you from being a part of this new creation?
What keeps your voice quiet?
What keeps your words unknown, perhaps even to you?
How might you become an agent of change in a way that is grounded in Soul?
I see this as a process.
Come into your inner world. Deepen your awareness of what this world is and what your inner voice is saying. Listen.
Find some method or practice to bring what you find/hear in your inner world into this outer world, even if it is simply for yourself. You can do this through writing or art-making or even dance. But find some practice that puts into form what you find within.
Discern if what you've brought into form wants to indeed be shared with others. Does it need to be spoken into the world?
Realize that you are the authority of what comes through you. And you are the authority of whether or not you get to say what you need to say, share what you need to share. No one else can give you this authority. No one else can tell you whether or not what you have to share is worthy of being shared. This is a crucial piece of the creative process – to no longer judge yourself and your own inner voice and knowing. To no longer stuff it down inside you. It can be simply a decision you make. And, this can take some deeper internal transformational work to shift your beliefs, something I do as a coach.
To become an agent of your own voice, to find agency within yourself. Agency – the ability to take action, the impulse to move and express – comes out of an internal kind of thrusting, just like the seed cracks and thrusts out of the soil and into the world. What is the source of this power? It comes out of Source itself, out of Eros, the impulse to live, to express fully, to know oneself fully.I have found that personal agency comes out of the transformation of our stuck emotional leftovers, by doing the inner work that allows the energy itself to transform into the essential qualities of who you are – especially anger. When anger is thwarted, our agency is, too. Even if we are one who expresses a lot of anger, it still isn't our essential strength. Essential qualities lie under the emotions we use to navigate the world. When I worked with anger and rage, what I found access to were essential strength, will, and power.It is normal to feel anger. It is a sign that something is off, wrong. When it stays stuck, which it does when we are young because more often than not children are taught to stuff their anger down, we have little to no access to our sacred strength, will, and power. Instead, we push and strive which is tiring. Sacred, essential energies flow naturally once we do the work to transform these stuck energies.
Take action that is aligned with your own unique expression in this world, action that aligns with what you value. There is great power in no longer simply being against something, but rather being for the birthing of something new.
This is how we each become an agent of change – through our own internal agency. If what we are acting upon is this inner voice, this inner knowing, this is power from within.
It is power with others. It doesn't seek to deny others of power. Rather, it is generative power. It is life-affirming because the inner voice is the greater intelligence that is at the heart of life.
On Saturday morning, I popped onto Facebook Live to share what was really burning inside of me. Basically, I followed these steps. This is what I shared. Please feel free to share it with others if you feel it would be helpful.

Toward the end, I mention that I think it is helpful to find a place where you can practice these steps – where you can get comfortable going into the inner world, listening for what is there, writing the words down, and then speaking them out loud. There is great power in connecting the inner voice and the physical voice. Many of us as women have been silenced from a young age, oftentimes by our mothers or other women who want to help us stay safe. But now we must speak if we are to be agents of change – if we are to come to embody both authority and agency.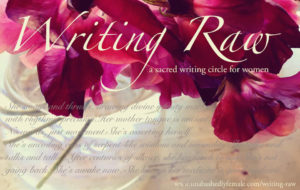 This is one of the main reasons I started Writing Raw almost three years ago – to give women exactly this experience. The writing is secondary. What matters is that you come to express the vast creative voice of your inner world out here into the external world.
Writing Raw begins tomorrow, March 14th. You can join anytime this first week.
Please join us if you feel this is a necessary next step in your evolution as an agent of change. We are all in this together and isn't it wonderful to be together?