I've been teaching and coaching around creativity for quite a while – twelve years, now. I've often asked my students and clients, "In your own experience, from where does your creativity flow?" It's a question that often boggles the mind, but when we sit and pay attention to the moments when an idea or insight comes, we realize it comes as if from out of nowhere. (We explore this in depth in my course Becoming a Force of Nature).
How come this source of our creativity is so hard to trace? Because it comes out of the dark, out of the unseen, out of the mystery. It is a place we will never see nor understand. It cannot be understood by the mind.
When I've had my most profound insights, or my most powerful and creative ideas whether at work or home, they always appear 'as if' out of nowhere; yet, nowhere is somewhere.
There is a there, or a here depending on your perspective, from where life (creativity) flows. It flows out of some 'thing', although thing isn't the right word, either. No words can explain this, yet we know it.
This place is unseen. In this way, it is dark.
The dark is a place that is rich and vital.
The dark is the soil to the seed, the womb to the child, and the source to the expression.
The dark is also an attribute of Yin, or the feminine nature of life. If we are disconnected from the feminine, and fearful of the feminine, it is hard for us to trust in our creativity – all of us, regardless of gender.

We have been taught to distrust the dark, yet it is the wellspring from which Life flows. If we distrust the dark, we distrust Life, and we distrust our own Nature. The dark has also been confused with that which many people feel is 'bad'. Many times the term darkness is used to describe things people feel are evil. But the dark itself is just the other half of life, and it is an important and vital part of life.
What is your relationship with the dark? With your nature that comes out of the dark?
What if you were to 'Trust in your Nature'? Deeply listen to, trust, and express your Nature into the world? As a creative being? And, as a woman?
This is why trust is so important. Because, ultimately we cannot know this mystery. But, we can pay attention to it, to what comes forth from it, and to how it moves in our lives. We can come to know that this mystery is at the heart of our own nature as a human being.
I'd love to know what this brings up for you and how this shows up in your life…how you view the dark, and how either not trusting or trusting impacts you, your life, and your creativity. Please share with us in the comments.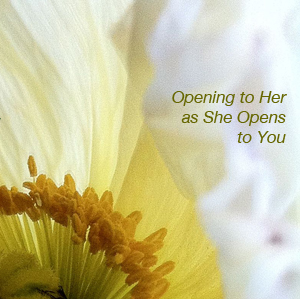 An Intimate Retreat
This April 4, 5, and 6, I'm co-hosting (with Amy Oscar) a very intimate in-person retreat. The Feminine is the mystery, so many times we feel nervous and scared about opening to Her. That is precisely why we are co-hosting this retreat, Opening to Her as She Opens to You, because we get to explore together, to learn from each other, to weave our experiences together.
If you feel called, or even feel a nudge, please take a look, and if you have questions, please get in touch. This is a process of unfolding. We are listening, receiving, and will bring what we hear to this gathering.
I'd love to have you join us.