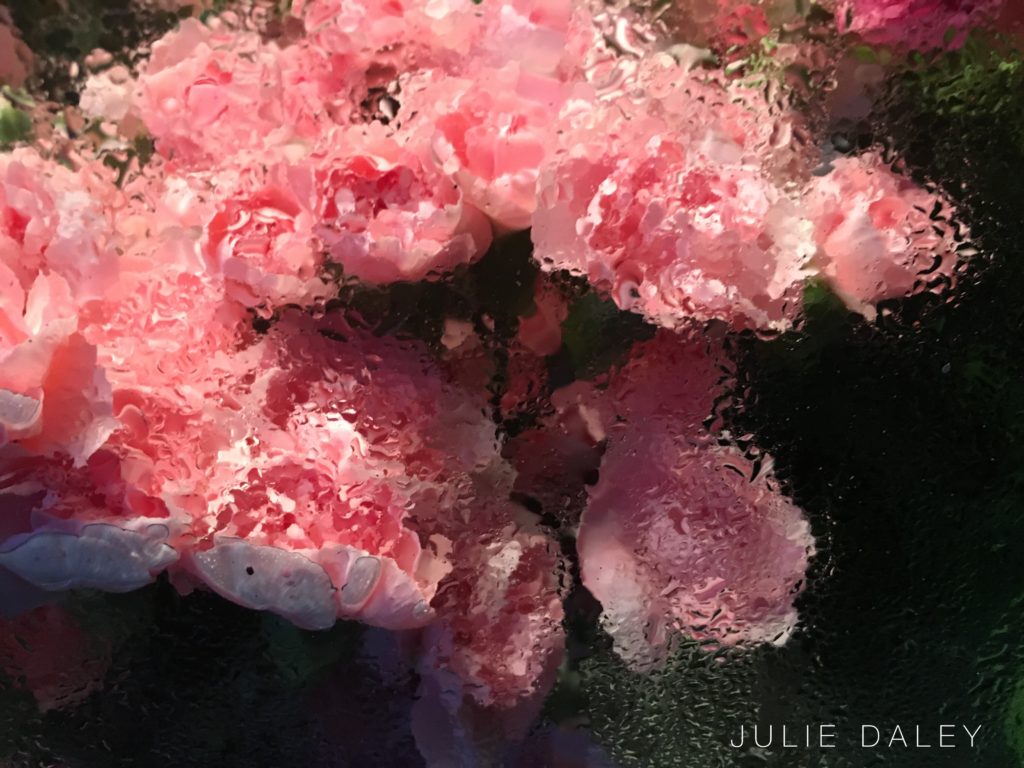 Watershed
This remembering and returning.
Wave upon wave.
A spiral that begins with wide arcs
Never seeming to make their way around
To anything recognizable.
Until one day they do
And I notice
The slightest sense that
I've been here before.
Rediscovering something I'd discovered before.
About who I used to be.
But now there's less veil and more light.
Big mind unknotting.
Catching glimpses of who I am and
Who I thought I had to become.
At the same time,
Flashing back and forth
Beginning to understand
I can now let go.
A mind so very tired of
Believing I am separate
Vigilantly watching
Carefully holding on
While remembering what it was like
To be free
To love the sunshine
To feel unabashed joy
And to simply love what I loved.
Watershed moment
Who am I now?
Back and forth
Unknotting and releasing
A distinct sense of Self, emerging
That isn't distinct at all
Then birdsong sings and joy floods in
And I realize there is but One
Who is both tired and joyful
Unwinding and free.
***
Yesterday was a full moon eclipse. I experienced something powerful – an unknotting of my awareness. It was quite amazing, really, to witness my thoughts and how I kept seeing through them. But it was without effort. All I did was stay present to what was occurring.
I was walking along when tears came and my mind and heart opened. There was a distinct sense of organic qualities that were just present, while layered upon this was a sense of a created self, born out of trauma and a reaction that turned into habits. A created self who monitors vigilantly, hovering above the self who just is, joyful and radiant, soft and curious, tender and vibrant. A created self, born out of a fractured relationship to life from that trauma, now believing it was separate and wary. As I walked, my awareness slipped back and forth between the two. The wary one was aware that it could possibly let go, that it just might be safe enough to return to the open spacious awareness it was before it became vigilant. And then it let go as much as it was ready to and I softened. And I realized that our consciousness identifies with some idea of self and then habits build up around that idea of self that help to maintain that idea of self. I could clearly see this.
I immediately wrote the above poem to capture the essence of what had happened because it was such a profound experience to be so conscious of it while it was occurring.
***
I share it with you because I know we are all on the same journey – the journey home. When we share our stories, we help each other come to see what is happening within our own experience.
This is much of what my new course R I S E is about – allowing our wholeness (creativity) to be the source from which we choose to make choices in our lives. Our wholeness is here, but we've fractured into ideas of who we believe ourselves to be, oftentimes making it really hard to experience who we truly are. We can step back and root down into our wholeness. We can come to live from this place.
And when we do it with others, together, we lift each other up. We rise together.
This is going to be a beautiful, potent exploration. I know sometimes that can be frightening, but it is truly a chance to explore and discover yourself in a way you've perhaps longed to do.
R I S E

begins on Tuesday, Feb 14th – Valentine's Day – for this is ultimately about love and letting love be the guide for your life.