"In our yearning to be perfect, we have mistaken perfection for wholeness. We think we cannot love ourselves until we and others meet some external standard. Depression, anxiety, — in fact, most neuroses and compulsions — are ultimately a defense against loving ourselves without condition.
"We are afraid to look at the damp, dark, ugly yet exquisite roots of being that stretch deep into our survival chakra. We are fearful of finding that the spirit is not there, that our Home is empty, even as our outer home is empty. Yet it is in that place of survival, where the dark mother has been abandoned, that spirit longs to be embodied so that the whole body may become light." Â ~ Marion Woodman, Dancing in the Flames, pg. 66
As I sit with these words and feel into this dark root at the base of my torso,
I see that my fear of messy stems from this loss of deep Home. When chaos strikes, which is what messy feels like to me, I can find no ground and this is what is terrifying.
But, even deeper than this is the truth of abandonment – mine of Her – mine of the dark, the dark mother.
I can find no ground when I deny the ground. I am rooted in the ground when I embrace Her.
I often feel very grounded, but this is something deeper. This is a full homecoming into the lap of the dark mother.
Cut off from my own dark,
my own root, my own exquisite ugliness, I've hidden the ugliness, the voraciousness, the huge appetite of the dark of self. Sent away to the sewer of the psyche, years ago I would have sworn to you I had no appetite, no devouring nature.
For the past twelve years, since I first felt a pull down into the earth, I've followed a dogged path to know something, to remember something. I've not clearly seen what that something is. I've followed some wise teachers, many of whom taught me a great deal about what it means to wake up. And, along the way, I've become more conscious.
But it wasn't until just weeks ago that I realized something critical to my journey – that on some very real and deep level, I didn't want to be here…fully here, fully alive in this body. This isn't the same as not wanting to be alive. It is different. It is not wanting to be fully here, fully in this body – which means being fully awake and feeling in this body, in the entirety of this body.
"Yet it is in that place of survival, where the dark mother has been abandoned, that spirit longs to be embodied so that the whole body may become light."
I am seeing something: that to truly be here in this body means to truly survive, and to survive one must become conscious, become light-filled, all the way down into the survival chakra…into the root of the body. It is here where we finally take root in our lives.

What happens when the root of all roots wakes up? 
As I perused synonyms for 'survival', I found…
to… continue to live or exist, remain alive, live, sustain oneself, pull through, get through, hold on/out, make it…. keep body and soul together…keep body and soul together
Keep body and soul together. THIS is it. Without the dark mother, we separate body and soul. We cut ourselves off from a big piece of our nature. The reality is, we need the mother, the queen of darkness, to survive. We need our instincts. We need our anger. We need our connection to flesh, to all of it. We cannot be fully alive without it. How could we be? How could we possibly be fully alive if we deny the reality of parts of our body?
What's the point of being here if we are not fully alive, fully alive with the light of love?
There is a regal quality to soul. She, soul, is where light meets flesh, where wilderness and spirit meet. She is the regal bridge between the light of Spirit and the instinct of the dark mother. We've only labeled it as ugly. We believe our animal nature is ugly.
But how could we ever come to know our earth in her holiness if we can't see holiness in the soil of our own flesh?
Think of the parts of yourself that you most want to deny. What did you have to do to these parts and aspects of yourself in order to deny them? Where did you put them when you abandoned them? How deep did you bury them?
To be here, fully, we must root down into the dark, moist soil of our being. What does it mean to root down? It means to become conscious, to fill with light, the light of awareness, to wake up to the holiness of the most base and basic qualities of our humanity.
What wisdom does the dark hold?
When I began to listen, I opened the door to power, to a great presence, the kind of power and presence that stands firmly in her autonomy, solidly in her sovereignty, and joyfully in her agency. First, though, I had to admit I was angry. First, I had to admit that I am a sexual creature. First, I had to admit to myself that I'd cut myself off from my soul. Then, and only then, would she begin to listen, and then speak. Then, and only then, did I begin to feel great remorse for my unconsciousness. Then, and only then, did I come to see that she had never forsaken me.
She, the dark mother, does not forsake us. We forsake her.
Our belief in the existence of perfection causes us to cut ourselves off from everything that doesn't fit our idea of perfection.
Perfection could never include darkness, but wholeness cannot exist without it. Without the dark there is no light.
::
How to Enter the Creative Unknown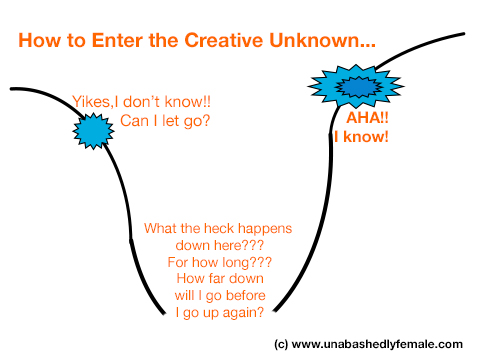 I'd love to have you join me for the pilot/beta run of my new course, How to Enter the Creative Unknown. We begin on Dec 1st and meet for four weeks. In exchange for your rich experiential feedback of the course, I'm offering a reduced price. I am excited about this course. In it, we'll go into the heart of the creative process and discover how YOU uniquely navigate change, challenges, and creativity.
You can read more and register here.