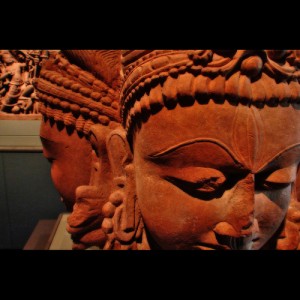 Image by Shapeshift, Flickr
(creative commons license)
::
Best of 2009 Blog Challenge:  Day 22: Startup. What's a business that you found this year that you love? Who thought it up? What makes it special?
"A spirituality that is only private and self-absorbed, one devoid of an authentic political and social consciousness, does little to halt the suicidal juggernaut of history. On the other hand, an activism that is not purified by profound spiritual and psychological self-awareness and rooted in divine truth, wisdom, and compassion will only perpetuate the problem it is trying to solve, however righteous its intentions. When, however, the deepest and most grounded spiritual vision is married to a practical and pragmatic drive to transform all existing political, economic, and social institutions, a holy force – the power of wisdom and love in action – is born. This force I define as Sacred Activism." ~ Andrew Harvey
::
Best Startup of 2009:  The Institute for Sacred Activism, created by Andrew Harvey and Jill Angelo. The Institute held its first series of trainings in 2009.
Why is it special? The Institute is bringing to the world Sacred Activism, which is a marriage between Activism, the traditional path to social justice, and the realization that all of life is sacred – ALL of life is sacred.
Sacred Activism is compassionate action, bringing the wisdom, love and connection of the Sacred Feminine back into this world that so desperately needs it.
I have already celebrated the Institute here and here in my blog. But, the Institute, and its founders, also deserve this mention as best startup, because of the sheer amount of dedication, time, energy, tenacity and profound courage it has taken to create this container for growing sacred activists.
I first heard of it in July, so I wasn't able to attend the first meetings in April and June, but what I learned in September and November, about how to bring my personal vision for a change in the social structre into concrete action, was of immeasurable value.
I learned about changing the structure of the way things are by engaging people with their values, then seeing if their behaviors match these values, from Monica Sharma, Director of Leadership and Capacity Development at OHRLLS, United Nations. She is a powerhouse speaker with a vision that sets you on fire.
Monica's teachings were invaluable to me, as I deepen my work on helping women (including myself) to heal from the pain of conditioning that teaches us we are not enough, and from the projections that are placed upon us by a culture that fears our power and mystery. The cultural shadow that keeps women believing in their powerlessness is insidious in how it keeps us believing so much negativity about the feminine and females in general. In very practical terms, facilitating this healing can bring a much needed shift to our world.
In November, we had an entire session on the body (global and personal), where we practiced a new form of yoga, Heart Yoga, developed by Karuna Erickson and Andrew Harvey. It is a beautiful form of physical yoga married with visions of the heart. Their new book, Heart Yoga, will be available in May of 2010.
Of course, we were blessed with the fiery passion of Andrew Harvey each day of our trainings. Andrew is passionate about sharing his hope for a different world. If you don't know this man's works, check out his lengthy list of creations.
Simply coming together with people from all over the country who are committed to sacred action created a wonderful community to draw upon was a powerful affirmation of the widespread desire of so many Americans who hold a vision for life in our world to be very different than what we see today.
::
If this interests you, the Institute will be holding more teaching days in 2010. Also, check out Andrew's call to create Networks of Grace. As Andrew writes, we have very little time…
"The one hope for the future lies, I believe, in Sacred Activism – the fusion of the deepest spiritual knowledge and passion with clear, wise, radical action in all the arenas of the world, inner and outer.
We have very little time in which to awaken and transform ourselves, to be able to preserve the planet, and to heal the divisions between the powerful and the powerless.
Let us go forward now with firm resolve and profound dedication." ~ Andrew Harvey
::