Today is International Women's Day.
I've been not quite sure what to write. I have mixed feelings about this day.
On one hand, so many women need to know, in a real and grounded everyday way, that being a woman is a beautiful thing, and that they gifts we women offer to the world are worthy and sorely needed – gifts that we offer when we are being wholly who we are as women.
On the other hand, around the world, women still are far from sharing equal rights with men. Here in the United States, we're seeing how much fear and distrust of women still lurks in the shadows, and sometimes stands in broad daylight. Having a day where we celebrate women can feel so shallow in the light of the atrocities happening each and every day around the world. Sometimes, it feels like we've been thrown a bone when in reality those who hold the strings of power have no intention of really offering women equal rights.
Speaking of strings of power,
have you ever noticed that women will most likely never have equal rights in this cultural paradigm? I mean, let's look at the present day situation. In a cultural construct based on heirerarchy and patriarchy, with a system set up to keep this heirarchy in place, maybe it's only possible if the actual structures crumble…
Everything eventually dies, including structures and cultural constructs. I see the structure of patriarchy most certainly is dying.
The structures that we currently see in the world as we know it, at least most of the world, are structures that were created with a mindset that the feminine is something to be feared and distrusted…the feminine in women, the feminine in men, and the feminine in the world – basically all of nature. So much of what we see in our human constructs were built on this.
And, if you've ever given birth, been witness to earthquakes and tornadoes, the feminine is most certainly powerful. I have birthed two babies, and watched each of my daughters give birth, and the power of the feminine is something to behold, something that brings forth complete awe in me.
The feminine is powerful and awe-inducing.
These structures based on fear of the feminine don't just exist out there, they also exist within each of us. We've internalized them. And, we've probably internalized some kind of fear and distrust of the masculine as well, the masculine in us all. And, these internal structures are dying, too. Can you feel this inside you?
Can you feel a new feminine consciousness within yourself?
Why is this important today, on International Women's Day?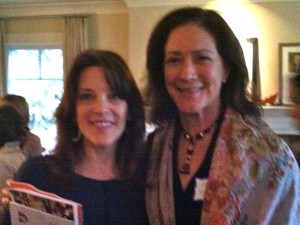 A few months back, I met Marianne Williamson at an intimate gathering. She asked what I do, and I told her the varied things that fill my workday. She seemed to take interest in the course I teach on Creativity and Leadership in Business, and asked me what I would say to women about what they need to know around business.
My response? Two things:
"We are not men." &Â "There is a different way to do business than what we see operating in our world today."
We are not men.
We are not men. Even though most everything in the culture looks at the world through men's eyes, we are not men. Thank goodness there are men, and thank goodness there are women. We all are here to be what we really are.
I am interested in you knowing this, not because I've written it, nor because it seems to be an obvious physiological conclusion. I'm interested in it because the new world coming depends on you knowing it.
Let me say that again…
The new world coming into being depends on you knowing who you are and expressing it through the female body you live in.
What I am interested in today is you knowing you, knowing who you are, knowing what delights your heart, knowing what it is to be fully alive in this world in your female body. Alive and erotic just like the cherry tree, just like the ocean, just like Mother Earth.
All of life is this wild eros, including you.
And, we could most certainly all use a shot of wild eros, don't you think?
In our personal lives, our relationships, and even in our businesses.
Passionate Business
Business budding with blossoms, business giving birth, business erupting and shaking and crashing its waves upon the shores. Business that neither fears the feminine nor the masculine, but works in tandem with all of life…including the earth.
So many times I see women thinking they have to make a mark on the world that is big and audacious. Nothing wrong with that, and that may be how your mark shows up…and, in reality, we affect the world in many small beautiful ways each day. And, sometimes what happens is those many small ways eventually move into big changes along the way.
In a day-to-day, personal way, my friend, Renae Cobb, sees International Women's Day from her personal vantage point as a mother to two daughters. She writes of not really knowing what this day is about, yet going on to share just how important an impact she has.
On an international level, the Christian Science Monitor writes of Twelve Innovations that are Lifting Women Out of Poverty.
Women are changing the world, everyday. There are many ways to do womanhood. And many ways to do manhood.
What if we found the courage to put down the project of who we believe we are supposed to be, so we can be who we really are, fully alive, powerfully real, wildly erotic in the fullest sense of the word…unabashedly female.
Part of this being truly you is discovering the rich love women have for each other. I've just written about it here.
::
I'd love to know what ways you are living womanhood. Consider sharing in the comments. We feast on each other's wisdom.
I've recently released my new collection of posts, poetry and audio into a sensual immersive experience, The Best of Unabashedly Female. I'd love for you to take a look to see if it might be of interest to you.