"I burned in the unutterable beauty of being alive." John Peale Bishop
The Vast Embrace
Last night, I sat on a park bench, on the top of a hill in San Francisco that looks out over Alcatraz and Angel Island on one side and sweet city neighborhoods on the other. I watched as dogs played, lovers walked hand in hand, and the sun found its way down to the horizon.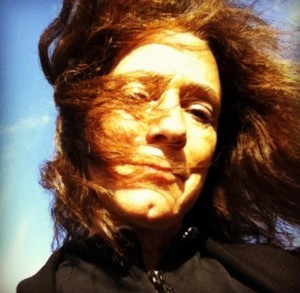 As I sat, I was drawn into an unutterable presence. No words. Just softness and a few tears. Wind blew across my face, gently drawing me deeper into this presence. A big presence. A wordless presence. A loving presence…a love that burns away most everything it touches. There was so much power there…a full, vibrant, pulsing power.
I felt happy. I felt joyful. I felt a bittersweetness.
I felt love brush against my skin and the silk of the soul's caress.
::
My old way of trying to muscle stuff into being can't hold a candle to this powerful presence. Muscling anything grows old. It has never made me happy. Whomever first thought that striving, pushing, forcing, fearing, and dominating life and people and things could result in a happy life was crazy…
Believing that life could be controlled and dominated and forced into submission is crazy-thinking. Perhaps it feels like it will work…at least for a bit. But, ultimately, not a chance.
What we humans do to try to control is cah-ra-zy. In setting it all down, we ultimately open to what is being offered.
Open heart. Open arms.
Setting it down takes a quiet, "Yes", not a big, clamoring noisy, "Yes".
I remember my teacher telling me this. I wondered what it would be like to finally simply answer, "Yes".
For so long, I've fought this…and, I can see the fighting is futile. And while I can't say it won't pop up again, the "Yes" is getting quieter.
Opening to the vastness of life feels out of control, but then it is. It is out of the control of the one who fights it. Control has never worked, though. Striving, pushing, forcing has never worked…not in the way I thought it did.
What I now know of love and desire has taught me that it is far more powerful than anything I, the small me, could do. All my flailing against myself has only caused me pain.
The inner battle, struggle, and fighting against that thing inside that seemed as though it would be too much has been exhausting. Laying down the fight eventually comes.
I know I don't know, yet somewhere…deep…down… when I soften, I am held by something. A vast, silent, unfathomable nothing that is something. And, that, makes all the difference.
::
And, you?
What are you experiencing?
How do you feel this pull?
How might you soften into this vast embrace?