On Sat Jan 26, I participated in a flash mob for One Billion Rising. If you don't yet know what this is, take a peek here. Short version – it's Eve Ensler's vision to have one billion women strike, dance, and rise to end global violence against women. One in three women on this earth will be sexually abused or beaten in her lifetime. One in three. Think about the women in your life. Out of every three, one will have to endure this violence. And, you might even be that one in three. I am.
At this time, 190 out of the world's 193 countries plan to participate.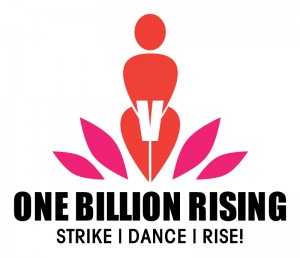 You probably all know what a flash mob is. This was not really a flash, but still a mob…about three hundred of us. We gathered downtown, across the street from the Ferry building, and right near San Francisco's financial district. We were there to perform the dance that Debby Allen choreographed for One Billion Rising to the song, Break the Chain.
Many women and men volunteered their time to help teach, to organize, to set-up, and to ultimately help to put on this day, as well as the other four performances to be held in the next month or so around the San Francisco bay area.
On V-Day, always held on Feb 14, VDay, we will gather again, this time at the Civic Center in San Francisco to do the same dance, and in the evening in Fairfax to dance a 5Rhythms wave – all to strike, dance and rise, in support of ending global violence against women.
On this day, though, I was deeply moved by what I experienced dancing to rise up, in solidarity, to this violence, and to the complacency so many of us seem to have to the kind of culture that breeds it. I'm a dancer. I love the dance. I've been dancing for over ten years, now, and lately many of my friends from the coaching world have begun dancing, too. Friends I have known for these ten years danced alongside me.
On this day, the dance was holy – holy moments of dancing with 300 other women and men; holy moments literally dancing to Break the Chain, as well as metaphorically to break the chain; holy moments dancing with my whole body and whole heart for everyone who cannot dance, everyone who is not free.
My friend, Amrit Rai, and her husband Larry came to the city to watch the dance. They are both part of my dance community. I spoke with Amrit after the dance, and she shared her experience of watching. She spoke of the depth of feeling that she witnessed as we danced. Her words pointed to something very similar to what I felt dancing, yet she wasn't dancing. I asked her to share them here:
"When Larry and I first arrived I felt immediately uplifted as the collective field that was forming was one of inclusion and joy. The thought of witnessing a herstoric, dancing event in the financial district environment had me curious. On getting there we were immediately whisked onto the stairs by a couple of women in the crowd. We had the perfect view overlooking the center area where the dancers were starting to gather.
The most moving thing to me was seeing so many familiar faces from the dance community and to see a united moving body– moving together on behalf of women's rights and freedom.
The dancers and group energy field was infused with heart — I couldn't help from clapping and singing in solidarity.
I noticed that the dancers were the most moved of everyone in the crowd. Tears, expressions of awe and reverence were visible in their faces and palpable.
My sense of it was that it is important to be a direct participant in such a movement– that the actual embodiment itself makes a deeper commitment to what it is we are standing for, or rather dancing for – being a participant is at the core of the change.
I am happy that the collective WE is bringing light to such basic issues using such potent healing modalities, LOVE and UNITY– so much more energetically potent than protesting, and the embodiment piece is brilliant– wisdom in action!
Resonance informed transformation. Infectious and unifying! I loved it!
I left there with true hope in my belly for a loving and humane world. One in which life is celebrated and every being feels a deep sense of belonging.
When we act from our deepest desires, and from our own internal knowing, a powerful force is unleashed.
When our action is grounded in something we truly love, as it is here in the dance for me and for so many of the people in the dance community I am so lucky to be a part of, joy is also released, joy married with a desire to serve healing and life.
Our denial can be great; I know mine is. For me, denial is a many-layered thing. Denial creates a fog that makes it easy to continue functioning in the day-to-day, all the while underneath it we know we are not listening to our hearts, and we are not taking responsibility for the wellbeing of life. When we get into the body and feel, we can no longer deny what is true. The body moves toward life, toward love. The body moves toward healing.
On Feb 14th, VDay, we all can rise. Just think of the shift on our planet when One Billion women (and the men who will take the step forward to dance alongside of us, knowing that violence against women is not just a women's problem) dance for liberation, dance for the end of the status quo, dance for freedom from violence for everyone, the entire planet will feel it. Think of the joy we will release through our feet, feet that connect with the earth. The earth needs to know joy, too.
Amrit is right: To embody this movement of rising, this movement of solidarity between women and men, this movement of love is an incredible experience. To feel it in your cells, to engage the body in dance, in music and joy, is to bring one's whole self to stand for change.
What I noticed was that I wasn't fighting against, but rather I was dancing for a new dawn, a new day. Dancing with my dancing friends, with such beautiful music and moves, for freedom from violence amidst the tall buildings of San Francisco's financial district was surreal. It was as if two worlds were colliding for me. Dance is something that I do where most of the rest of the world doesn't see it. To bring so much love and passion out into the street taught me something. It taught me that dance must no longer stay separate form the rest of my life. What I experience on the dance floor is holy. And what I experience dancing out in Justin Herman Plaza was holy. Dance is holy joy.
In the evening of Feb 14th, on V-day, Stacey Butcher and I will be hosting a 5Rhythms wave in Fairfax, a small town in Marin. Kim Rosen, a poet, will also join us sharing some of her spoken word poetry. It will be a joyous rising up, a striking for justice and love. If you live in the San Francisco Bay Area, please join us. You can sign-up here.
Silence is no longer an option.
::
Break the Chain Lyrics
Lyrics by Tena Clark
Music by Tena Clark/Tim Heintz
I raise my arms to the sky
On my knees I pray
I'm not afraid anymore
I will walk through that door
Walk, dance, rise
Walk, dance, rise
I can see a world where we all live
Safe and free from all oppression
No more rape or incest, or abuse
Women are not a possession
You've never owned me, don't even know me
I'm not invisible, I'm simply wonderful
I feel my heart for the first time racing
I feel alive, I feel so amazing
I dance cause I love
Dance cause I dream
Dance cause I've had enough
Dance to stop the screams
Dance to break the rules
Dance to stop the pain
Dance to turn it upside down
Its time to break the chain, oh yeah
Break the Chain
Dance, rise
Dance, rise
In the middle of this madness, we will stand I know there is a better world
Take your sisters & your brothers by the hand
Reach out to every woman & girl
This is my body, my body's holy
No more excuses, no more abuses
We are mothers, we are teachers,
We are beautiful, beautiful creatures
I dance cause I love
Dance cause I dream
Dance cause I've had enough
Dance to stop the screams
Dance to break the rules
Dance to stop the pain
Dance to turn it upside down
It's time to break the chain, oh yeah
Break the Chain, oh yeah
Break the Chain
Dance Break Inst.
Dance, rise
Dance, rise
Sister won't you help me, sister won't you rise x4
Dance, rise
Dance, rise
Sister won't you help me, sister won't you rise x4
This is my body, my body's holy
No more excuses, no more abuses
We are mothers, we are teachers,
We are beautiful, beautiful creatures
I dance cause I love
Dance cause I dream
Dance cause I've had enough
Dance to stop the screams
Dance to break the rules
Dance to stop the pain
Dance to turn it upside down
Its time to break the chain, oh yeah
Break the Chain, oh yeah
Break the Chain
Strike | Dance | Rise