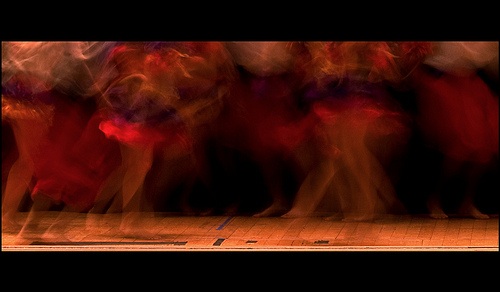 "Movement never lies.
It is a barometer telling the state of the soul's weather to all who can read it."
Martha Graham
The truth is close at hand. Just move and you will know it.
::
Today at dance, a different teacher played the music and guided us through our two-hour practice, a teacher I'd not yet danced with. As with each 5Rhythms teacher, he played a unique blend of music and guided us in his own unique way. And as has always been the case, my dance today was another unique expression of where I am, right now, a as a soul, dancing with another 149 other souls, to another unique soul's musical selections.
I think back over my eleven years dancing the 5Rhythms as a moving meditation practice and how my soul has moved over those years. If my thousands of dances had been recorded and put into one long stream, it would be a long weather report showing the changes in the state of my soul over the years – and there have been infinite state changes along the way.
When I first started dancing all those years ago, I felt called to it – even though it freaked me out to dance, freeform, without steps, in a room full of strangers. I kept showing up, week after week. This taught me so clearly how we know where our soul wants to move even if we fight it or fear it.
Yes, I felt embarrassed often. Yes, I even felt like I might die of embarrassment – and I didn't. Something pushed me to go. Something without words. It was instinct. It was knowing. It was intense.
Eleven years later I can't imagine not dancing. I can't imagine not knowing the people I've met through dance. I can't imagine not having come to know myself so much more clearly. I can't imagine not being more deeply awake in the cells of this body. I can't imagine NOT knowing that this powerful joy is possible to know on a regular basis.
Joy comes even when my soul is in the middle of stormy weather, because the joy comes from movement itself, not from being 'happy'.
Movement is like that. It shows us what's up inside. It shows us how we are unfolding.
Creative expression is movement through the body. Whether we're moving the pen across paper, brush across canvas, feet across the floor, the body loves to move and the soul loves to express. We are creative beings by nature.
But here's the thing.
Anyone or anything that tells us our expression, movement, disposition – basically the expressions of who we are – should be all sunshine and blue skies all the time doesn't know a damn thing about weather.
Being human is not always sunny and blue skies – not if we're truthful.
When your hand is moving across the paper or your feet across the floor, don't stop your soul from moving the weather at hand – or foot. Let your soul pour rain onto the paper, or dance a dark star-lit sky across the floor, or move strong confident wind across your vocal cords.
We are nature. Why should our movement and creative expression be any different than the weather?
It only is when we try to control it by hanging onto it, forcing it, or telling a big story about it that we stop the weather from rolling out across the plains of our lives.
Let your expression move and you will come to know clearly, and beautifully, exactly the state of your own soul and a profoundly grateful joy. Our hips, hands, and hearts know what's going on inside and they'll be the first to report the weather if you're willing to move.