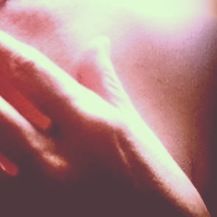 I've come here to live in my skin. Not to hide away from life, but to shimmy right up to this ever-so-thin layer of dermis so I can truly touch and be touched.
I've come here to live in my skin. To relate to life, caressed by breeze, by sun, by dew.
I've come here to live in my skin. It's the only thing that separates what I sometimes believe is me from what I sometimes believe is not me. It's a tender line, isn't it? This thin skin – a membrane so thin it defies rationality.
I've come here to live in my skin. A soft wrapping around the tender-most flesh, it gifts me with what many only speak of in hushed tones – one of the most joyous experiences of life – that of being touched, deeply, reverently consciously.
I've come here to live in my skin. To know the true intimacy of life is to know the sublime interaction that happens here. It is so simple, yet so profoundly mysterious. We can describe these bodies in scientific, physiological terms. We can say, "Oh yes, I know how it works." But when we touch another with our whole being, our whole awareness, at the point of connection there are no words to describe it. Nothing we can say can capture this moment of exquisite intimacy.
I've come here to live in my skin. To be alive, fully and vulnerably, is to offer this skin to the world. To do so is to allow yourself to be touched by what greets you.
I've come here to live in my skin, yet along the way I learned so well how not to live in my skin. Each of us has moments when what we experienced was too much, too painful, or too frightening to feel the immensity of the sensations of those experiences.
Over these past many years, I've been taking this long journey back into the body. Along with many things, one thing I've discovered is that sometimes what I long to say can only be said through my body. Sometimes, there is no way to say with words what the body longs to say. It must be said with touch, with movement, with song or dance.
Maybe that's our journey, to come back into the skin. We are here in bodies.  We are alive in these bodies, in this skin that was created to know the sublimity of touch and sensation and life.
Why are we alive if not to fully live in this skin?