"In touch with the erotic,
I become less willing to accept powerlessness,
or those other supplied states of being which are not native to me,
such as resignation, despair, self-effacement, depression, self-denial."
~ Audre Lorde
This is how I see the erotic. This is how I feel the erotic. When I feel it within, there is a natural responsiveness to life, a raw aliveness that is unbridled and utterly receptive.
This is why I feel it is so important to reclaim this word as a word that points to fullness, wholeness, ripeness; a word that is at the heart of a creative, sensual world. Because when we are in touch with the erotic, we feel alive. And when we are in touch with the erotic, we feel a natural urge to rise up for life, to serve life.
Eros is the love that life has for life itself. We are missing this in our world. We've come to equate the erotic with sexuality, and then it makes us uncomfortable, and we don't want to feel this discomfort. So we end up not feeling, and when we don't feel we can't feel this natural response within us to rise up to protect life. We are destroying our home and we aren't rising up in response to this destruction.
We live in this natural world that revels in beauty, wholeness, and fullness. And, it's a world that revels in life and in death, because there cannot be one without the other. In other words, this world we inhabit is at its core WHOLE.
For me, the erotic is this ever blossoming, ever blooming and growing, wholeness – always on the verge of coming into being and always on the verge of dying away. It's a rising and falling, an ever-present, effervescent call to itself, not for itself, but for the cycle of life.
The erotic IS powerful, it is creativity, sexuality, vitality – it is our life force.
While some might tell you it is simply porn, they would be seeing a sliver of this wholeness. But, then, isn't that what we see these days in our world? Everywhere I look, I see us believing in a sliver of what is really here.
When I look out onto the world, I see this amazingly fecund, fertile existence. Existence that recreates itself continuously. Existence that cycles in rhythms and flow, dances in light and dark, sings its song in more frequencies than any human could even imagine.
Our bodies are fertile beds, directly impregnated by life itself. Our seedlings grow, the embryos hatch, the babies bloom.
Everything in existence feels the urge to emerge.
What I know…
There is a deep well within every woman that is untouched by cultural conditioning, home to the erotic, home to the feminine soul. Over the past two decades, I've been committed to find this well within, this place where I could come to know my own reflection as a whole woman.
This could be called the well of the erotic. I call this well the temple of our erotic nature. Eros is the love that life has for life itself. And, we humans seem to be out of touch with this love. This love for life itself. We are missing the deep feeling of this, this effervescent response to care for life here on our home, earth.
Our world is thirsty for this response to care for life itself, and it is this response that moves within YOU.
We need the wild, the feral – that which swims in your blood, stirs the marrow of your bones, and beats within the chambers of your heart.
We need to feel this response for life. It is medicine. 
I don't see it so much as a doing. I see it as a re-igniting. When this fire is relit, who knows what will happen. But it is essential to light the flame again.
A few months ago…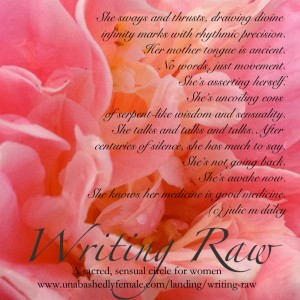 I heard the words, "Writing Raw" and I saw an image of women gathering from all around the world to write together, to write from this sacred well within.
There are two aspects to the reclamation of wholeness:
journeying into the unknown of the internal world with open arms and a willingness to not abandon what you find, and gathering in circle to share the words and stories sourced from this well.
Registration is now open…
Writing Raw is here, and I am very excited to share it with you.
We will come together for six weeks to explore together. You don't have to be a writer. And, you might be a writer. We are using writing as a vehicle to move what is inside this erotic temple out into the world. It might simply be to your journal. It might be to share with each other in the circle. And, it might be to share with the world at large.
In Writing Raw, my job is to act as guide into this realm within, the realm of power that is good medicine.
I would love to have you join me for these six weeks. Please take a look to see if it resonates with you. If you feel the erotic urge, the pull to become the vessel for the expression of your soul into the world, come join me!
Update:
Over the next two weeks until we begin, I'll be sharing different aspects of the circle – various thresholds we will go through to bring forth the words that want to be written. I know it will be engaging and enlightening.