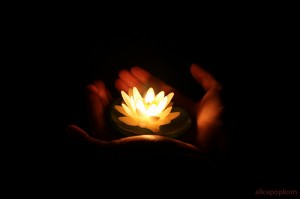 ::
image Welcome New Light by alicepopkorn
cc license
::
Best of 2009 Blog Challenge:Â  Day 25 Gift. What's a gift you gave yourself this year that has kept on giving?
::
The moment you expect something in return, love dies. ~ Ryuho Okawa
::
I love this question, because it guides me back to that which, when remembered, is already giving and is always giving. It is the source of all giving. When we give from this place, we wish nothing in return. It is here that love can flourish.
Remembrance. My soul is always calling me back to remembrance. It is the siren song, the wake-up call of the soul. It compels me, if I'm quiet and listening with my whole body, to remember the love in my heart. It guides me back to the heart, to the innermost heart, back to remembrance of love for the Beloved.
This remembrance of life is the natural spring of gratitude, which flows ceaselessly and endlessly.
This remembrance reminds me to be kind and compassionate to myself, to do no harm to this being, and in so doing, the awareness to be kind and compassionate to others, to do no harm to others, also grows and flourishes.
This remembrance floods all things with love, even those thoughts and beliefs that feel void of love.
Today, on the day of Christmas and gift-giving, when many of us around the world remember Christ, remembrance guides me to remember Christ consciousness (or Buddha, Cosmic, Higher consciousness), the inner heart of being in all of life that radiates qualities of compassion, truthfulness, humility and forgiveness towards all.
The simplicity of remembrance cannot be overstated. It is simple. When rembrance calls you, go with it. Let it carry you back. If the desire is true to remember, remembrance will find you and usher you home.